Congratulations to | Yimao technology for receiving the honorary certificate of love under the blue sky charity fundraising campaign 2019
Through 25 years of history, "love under the blue sky" has become a well-known brand in the minds of the public and a charity name card of Shanghai. Recently, "help others, sunshine yourself" 25th "love under the blue sky" -- "love one day donation" activity kicked off in nanxiang town, jiading district, Shanghai.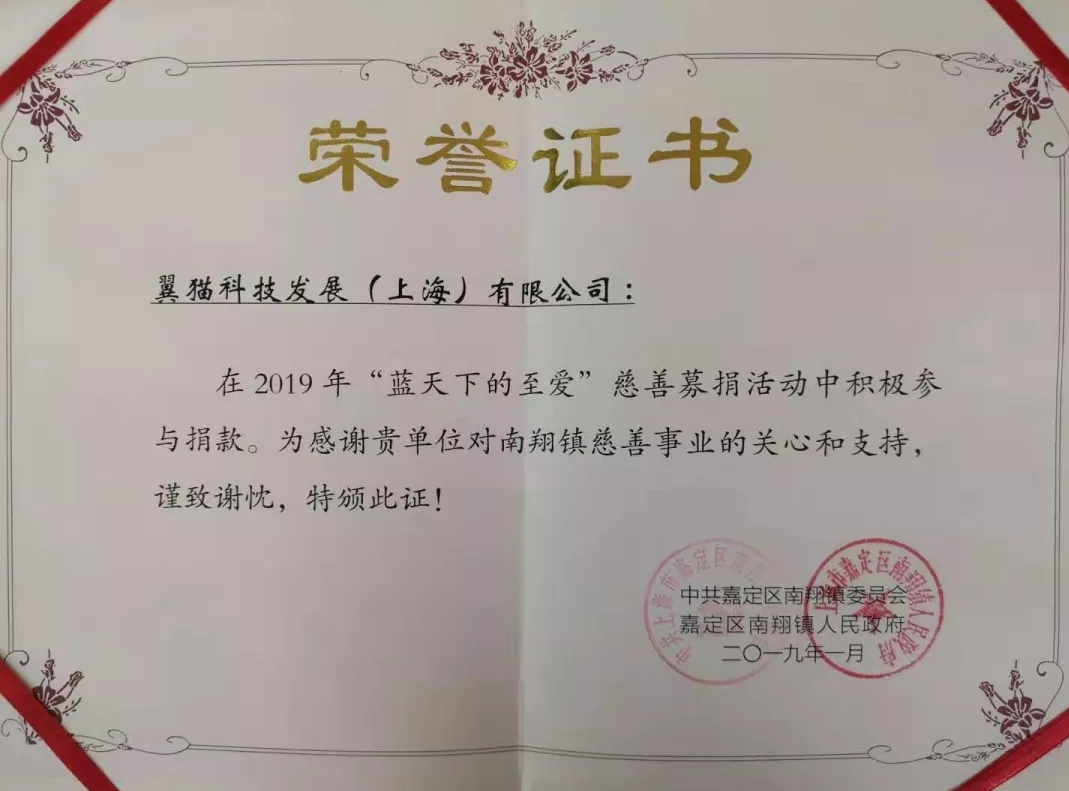 "Beloved under the blue sky" gathers people's kindness and becomes the love of the society
The 25th "love under the blue sky" charity activity, with the theme of "help others, sunshine yourself", will last 35 days from December 8, 2018 to January 12, 2019, with a total of 504 charity activities. "Love under the blue sky" focuses on "helping the elderly, helping the young, helping students, helping the needy, relying on the community to run charity, running charity for the community" as the purpose, the government and the public to get enthusiastic participation and support.
This year's "love under the blue sky" charity activity will give full play to the advantages of the Yangtze river delta charity interactive platform, give play to the brand effect, strengthen regional communication, better integrate various public welfare and charity resources, and benefit a wider range of service objects. In addition, we will also explore the love story materials provided by various channels to fully reflect the "temperature of Shanghai".
Yimao technology charitable donation with love to convey hope
Yimao technology insists on practicing social responsibility. While vigorously developing the health industry, yimao technology is actively engaged in various public welfare undertakings, especially in promoting the funding of orphans out of school and paying attention to families with disabilities. According to incomplete statistics, in the last three years, the Yimao technology in the national charitable donations have been nearly 10 million yuan. Charity is a public welfare undertaking and a common responsibility of the whole society. Everybody adds firewood the flame is high, the poverty alleviation is the Yimao person's initial intention, is also our bounden duty.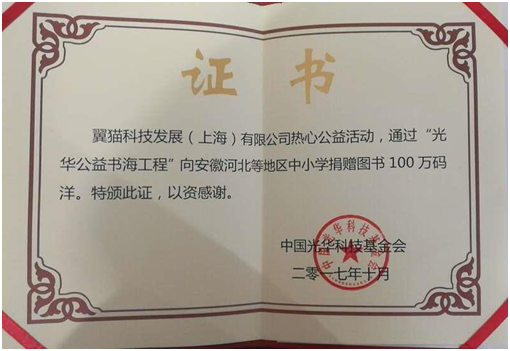 As junge said: love, is the root of all, release love, return love. With the most genuine compassion to treat sentient beings, we will naturally obtain the most transparent happiness and happiness. Once again, I would like to congratulate you on the success of this donation activity. I would like to thank the committee of nanxiang town, jiading district of the communist party of China, and the government of nanxiang town for your recognition.